The effect that modern technology brings to our life is immense and invaluable. The world is becoming smarter, faster, and safer with all these advancements. The IoT(Internet of Things) is not different from this. Our devices are becoming smarter than we ever thought. Today you can turn on the bulb in your room with just a click using your phone. Thanks to innovations and technical advancements in IoT. Today we will be looking at some of the best IoT examples in daily life.
Since the rise of IoT in 2010, it never looked back. IoT deals with tons of applications that connect humans to machines and machines to machines over the Internet. Today we are surrounded by things, among which the majority will use IoT technology. The ideas like smart cities and smart grids paved way for scalable IoT applications in many sectors. Let's look at some coolest IoT examples.
1. Mimo Monitors
The mimo monitor is the affordable IoT based device which is used to track the baby body position.
These monitoring devices will keep track of baby's body temperature, breath levels and more.
All the data will be shared to your phone.
It will include a Thermostat. It will change the temperature of the baby's body according to the data.
The motto behind this device is to prevent Sudden Infant Death Syndrome (SIDS)
2. Smart Thermostats
With these smart enough thermostats you can control your room / home temperature remotely.
Using your mobile device you can set the perfect temperature before you enter home.
The Nest thermostats will learn by the collected data and adopts to your routine.
Suppose if you are setting or following a certain pattern of temperature range, then after some days, it will repeat that pattern automatically.
Using this device you can save lot of energy resources.
3. Polo shirt by Ralph Lauren
Ralph Lauren is the most popular clothing company in United Nations.
They have launched a fitness tracker Polo shirt.
This shirt will keeps track of athlete's heart rate, temperature, calories burned and the overall activities done.
This data will be useful to boost the performance of the athlete.
The data can be connected with iwatch and iPhones as well. You can keep track on all the data recorded using your iPhone.
4. Smart Refrigerator
Many times when you back home and search for cool drinks in your refrigerator and you will come to know that it's already consumed.
What if you will be informed about things stored in your refrigerator? It's awesome right?
The smart refrigerator will keep track of all the items stored and the temperature of it.
You can easily monitor your refrigerator temperature and things stored through your phone.
5. Smart cars
The Automotive giants such as Tesla and Ford are already making cars which will be having advanced features in it.
You can control the doors, mirrors and other things of a car using your smartphone itself.
The Tesla car offers a feature where you can build your own app to track the car speed, mileage and much more.
The car has around 18 sensors to automate the things using IoT.
6. Smart phones
Smart phones are the inseparable part of our daily lives.
From calling, playing a song or a video to making online transactions and purchases, the smart phones has evolved a lot.
In these phones you will be using the proximity sensors, Gyro sensors for various activities.
All the data is recorded and used for product improvement purposes.
7. Smart watches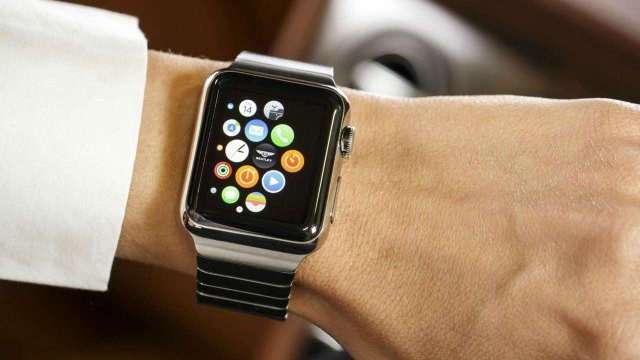 One can never forget the smart watches when it comes to IoT examples in daily life.
Today companies like Apple is manufacturing the best smart watches. It will monitor your pulse rate, blood pressure and more.
It can also record your voice and video as well. Some times you can use it for navigation purpose also.
With the Apple's Siri, you can connect with your devices more effectively.
8. Hue Bulbs by Philips
Personally, I liked the idea of Hue bulbs. It will make your room more special.
You can change the hue of the bulbs using your smartphones and actively maintain the hugeness.
This innovation from Philips is very attractive and one can change the intensity.
You can also set the timer in your phone to ON and OFF the bulbs to save more energy.
Wrapping Up
Since year 2010, IoT has come a long way, serving us by making devices smart and connected. The IoT devices will actively collects the data and use that for automation purposes.
You can control most of the things just by using your smartphone. This article is comprised of the top 8 IoT examples in daily life!!!
That's all for now. See you soon!