Everyone has become addicted to Snapchat these days because of its bewitching features. For instance, Snapchat's visual add-on filters and text which you apply while sending messages and its reward system. This system gives you awards depending on the frequency and quantity of messages to each other. Before Snapchat used to award Trophies but now it has been replaced by Snapchat Charms. This blog will tell you all you want to know about these new Snapchat charms.
Also Read: Snapchat forgot password: Steps to recover
Almost everyone has seen photos of people with dog's ears or heart freckles or flowers floating on their head. Also, I am 100% sure that you all know what I am talking about. That's right, Snapchat. The combination of snaps and texts is what makes this mobile app different from other social media. Snapchat has a special kind of camera so, you can try on a new look with just one tap on the mobile screen. Simply, you can chat with your friends through snaps on Snapchat. With more than 500 million users, Snapchat has become one of the largest networking platforms.
Where did Snapchat Trophies go?
Earlier Snapchat has a popular feature called Snapchat Trophies. It basically was a hidden reward system in which you can unlock certain badges after achieving something in the app. These trophies were represented by over 50 locked emojis. You need to make new friends, send a certain number of messages, or verify your email address to unlock these Trophies. These can be accessed through their Trophy case, which is shown in the image below.
Looking for Snapchat Charms
Snapchat has recently replaced Trophies to Charms with its recent update. These Snapchat Charms can be found in in your friendship details with another Snapchat user. The steps are as follows:
1: Open the Snapchat app which shows the camera screen.
2: Either you can use the search option to find any friend or go to your Chat List.
3: Select any one of your friend and then click on their username.
4: Then in the top left corner you will find a users icon or their bitmoji just click on it.
5: Then you will find an the chat attachments and from there you can add attach charm from there.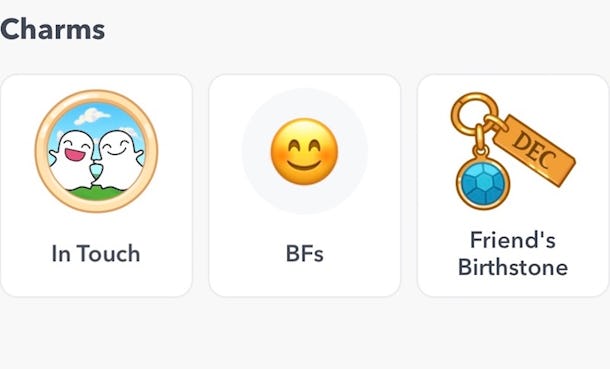 How charms are added to the profile?
Basically charms are surprises that are added to your profile on the basis of your friendship with your friends or interaction with them. It's just a thing snapchat does to keep you entertained. Charms can only been seen by you and your friends whom you are having the most interaction. If you are blocked or removed by friends you can not see the charms. But for you there are options of Hiding and Unhiding the charms as you wish.
So here are some options you can do to Hide and UnHide the Charms:
Steps To Hide A Charm:
There are easy steps you can do to hide a charm on your friends profile and your profile.
First you have to locate your Friends profile and go to the bottom of the screen.
Then Go to the charm and click on more information.
Then tap on the 3 dots beside it located at the upper right side.
After that click on the option of hiding the charm.
This way you can hide your charms for friends and your account.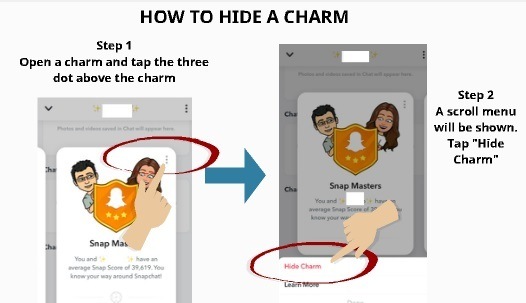 Steps To Unhide A Charm:
So now you have hidden the charms and want to Unhide them on your profile and your friends profile:
First you have to open your friends profile and go to the bottom of the screen.
Then all you have to do is locate the Hidden charm option there you can get Hidden charms listed.
After that clicking on the Hidden option you will option to restore the charms.
But the thing is if you are not in the active contact of your friends and if your charm has expired then you cant restore it.
Now we have given you the options of Hiding and Unhiding the charms with your friends. Now we will talk about the different types of zodiac charm introduced by the Snapchat.
Table Containing the Zodiac charms and there meaning:
| | |
| --- | --- |
| All Snapchat Zodiac Signs | Zodiac Meanings |
| Snapchat Cancer Charm | Cancer is a water sign of the zodiac. If you are a Cancer you are compassionate, love intensely and intuitive. At times, you can insecure or pessimistic. |
| Snapchat Capricorn Charm | Capricorn is an earth sign of the zodiac. If you are a Capricorn you are motivated and task-oriented. You are good with responsibility but may appear arrogant. |
| Snapchat Leo Charm | Leo is a fire sign of the zodiac. If you are a Leo you are passionate and creative. You have great energy but can be stubborn and lazy. |
| Snapchat Pisces Charm | Pisces is a water sign of the zodiac. If you are a Pisces you are an incredible artist with enough creativity for two. However, you may not always be grounded in reality. |
| Snapchat Sagittarius Charm | Sagittarius is a fire sign of the zodiac. If you are a Sagittarius you are a giver and have a large heart for all. At times, your generosity and kind-heartedness can be taken advantage of. |
| Snapchat Scorpio Charm | Scorpio is a water sign of the zodiac. If you are a Scorpio you are independent, stubborn and resourceful. You can strive in any situation but sometimes you can be distrusting and secretive. |
| Snapchat Taurus Charm | Taurus is an earth sign of the zodiac. If you are a Taurus you are reliable, practical and a strong person. You can be trusted with lots of responsibility but can be stubborn and unwilling to change. |
| Snapchat Virgo Charm | Virgo is an earth sign of the zodiac. If you are a Virgo you are loyal, modest and dedicated to friends and family. At times, you can be shy and worry too much. |
| Snapchat Aries Charm | Aries is a fire sign of the zodiac. If you are an Aries you are lively and courageous. You love adventure and exploring but can be impatient and impulsive. |
Snapchat Charm List
Charms are personal in nature as compared to Trophies and differs depending upon your friendship with another user. This gives you more information on the kind of connection you have with your friends like the above mentioned astrological compatibility.
There are about 30 of these Charms available on the app now. Snapchat has promised to add more of these in the future.
Snapchat Birthday Charms
As you fill in your profile and complete filling it, some charms will be unlocked just by doing this as we have mentioned above.
Birthday Twins
This charm will be unlocked if you and your friend have birthdays in the same week. As long as your birthday are a week apart, you will be able to unlock it. The year of birth does not matter here.
BFF
This BFF charm is available in three different versions. You will get anyone of the version depending on the duration of your friendship with your best freind on the Snapchat app.
It's Been A Second, It's Been A Minute & It's Been A While
These are three different charms that appear when you have lost contact with someone. This will say "it's been a second, minute or a while" depending on the amount of time you have lost touch. It's just Snapchat trying to give you a little nudge.
Snapstreak
This charm activates once you start sending snaps to each other on a daily basis. Then you will get a Snapstreak Charm which will display number of days on it.
Conclusion on Snapchat charms:
We have given all the information you need to know about charms. For instance, what are Snapchat Charms, How to hide and unhide charms, some of the Snapchat Charms that are available etc. Hope you find the information you are looking for in our blog.
Keep clicking, keep streaking!