In our day to day life we always want to copy and paste one thing or the other of some importance here and there. So we copy it and paste it somewhere else and then we want the thing somewhere else. So we just Xeroxing a piece of paper, cutting out the text you wanted, and gluing (or pasting) it to the other document where you needed the text. But Clipboard Manager for Mac can be used to simplify all these tedious task of copying and pasting and doing the same thing again and again.
It's a very important but a tedious task. But Clipboard Manager for Mac are here to save you and we are here to bring you 5 different types of clipboards and there pros and cons so that you can choose from the best.
Also Read:
So Why use Clipboard Manager for Mac in the first place:
So most of the people don't understand Clipboard Manager for Mac is an important tool for everyone as a software engineer or doing other some important work. This is understandable, especially if you're not used to using a clipboard manager as the benefit may not be immediately obvious.
The most obvious and demonstrable use of it when someone somewhere dictating you important terms and you want to write it somewhere. And also the real productivity comes in when you are pair programming with a colleague who doesn't use a clipboard manager.
The workflow will resemble close to like this:
Ctrl+C a piece of text (test data for example) and Ctrl+V it into a field in the browser.
Now repeat the above for a another field.
After some time they require the data for the first field and need to go back and Ctrl+C and Ctrl+V again.
So do i need to tell it or you can figure out the problem on your own. You spend a lot of time switching on the application throughout the day that can take a substantial amount of time in your day. So you can use Clipboard Manager for Mac where you can copied such as web service endpoints, test user names and passwords, and code snippets. So you can have access to all the important information with a click.
Configuration on which you can put Clipboard Manager for Mac:
Run on system startup:
In this configuration you don't have to start the Clipboard Manager for Mac every time. It can be used as ready to go enviroment.
You can have maximum number of items in history:
As per your requirements you can configure your Clipboard Manager for Mac as there will be many items should be kept in the history. It is as you can keep many number of things in the desk space. For us to suggest you should if you are heavy user of the clipboard. You should keep around 10,000 entries.
When the items are activated:
You can choose popup widget where you can use what popups for you. I prefer that the widget closes, the item is pasted into the underlying window, and it is moved to the top of the list in the clipboard history.
1. Clipy
When you will first use Clipy, you will get to know it as very simple. The essence of this clipboard manager for mac is simplicity and productivity. Clipy offers some of the best features than most of the clipboard managers. And the best thing is that it is open-source. People say that it is the missing clipboard manager for Mac OS X. When you use it for a while then you will get to know that it's true.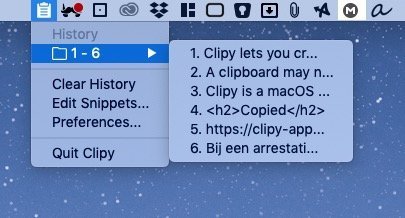 The entries that Clipy will record can be decided by you. This tool can also help you in recording images and other clipboard entries too. The decision to not record certain clipboard types is also up to you. The additional features of the clipboard managers are application blacklisting, Snippet support, and in-depth customization.
Pros: intuitive UI, top-notch customization, open-source, hotkey support.
Cons: None.
Verdict: Be it images, text or PDF documents, this will give you better control over what is copied. Clipy is a remake of an abandoned project called Clipmenu. This is one of the best clipboard which has no cons and provides variety of features.
Check Out Clipy (Free) You can download it for free from here
2. CopyClip
CopyClip is a popular clipboard manager for mac. This is because it is a product of FIPLAB which is a popular developer of utility software. The mac has a smooth integration with it and thus it will boost your productivity. This manager does not have many fancy features like the abovementioned one.
You can decide the number of entries to show in the interface. It also has the ability to record large number of text-based entries. It has a unique feature of customization. For instance, blacklisting in which CopyClip can be configured to not record entries from certain apps.
Pros: Top-notch macOS integration, simple UI, minimal footprint and overall customizability.
Cons: CopyClip can only record texts.
Verdict: CopyClip is the best choice if you love minimal clipboard management. There is no additional features or a fully-fledged interface but it is great for recording and accessing clipboard entries. Also, based on your preferences recording can be disabled or 'clip copied' notifications can be enabled.
Check Out CopyClip (Free) You can download it from here.
3. CopyClip 2
You may understand from the name itself that it is an advanced version of the abovementioned one. This is the paid version of CopyClip. As a result of the upgrade, it provides some extra features and some room for optimization and customization. CopyClip 2 is a great choice as it provides hotkey support and better control. It will also be able to read non-text clipboard entries, Unlike the free version.
You can easily open the window by clicking on the CopyClip 2 icon instead of going to macOS menu. You also have the option to search for any recording in need. This feature is not available in the free version. You can also paste formatted text directly instead of the basic content.
Pros: Extra features such as: Touch-bar compatible, Search, UI Customization and Hotkey support.
Cons: The interface cannot integrate so well with macOS.
Verdict: It offers many features which are more than enough for the price you are paying. The UI customization and search feature is a great upgrade.
Check Out CopyClip 2 ($7.99, 7-day Free Trial available). You can download from here
4. Pastebot
If you need better control over what you copy, then Pastebot is the best clipboard manager for you. You can open the interface via the menu bar. The best feature of Pastebot comes in picture when you have to access something you've copied long back. A list of everything that has been copied will open in a fully-fledged window. It is the best clipboard manager for mac when it comes to saving snippets.
As compared to other clipboard managers, Pastebot is much smoother. It also provides some amazing filters. The text or file can be copied on to your clipboard just by clicking on the entries. Also, it is a great partner to programmers or coders. As you can convert lists into HTML codes just by using one of the HTML filters.
Pros: Better content organization, snippet support, complete interface and filter support.
Cons: The interface on menu bar is not much intuitive.
Verdict: If you like to copy a lot of stuff or your job makes you do it such as coding then Pastebot is best for you. If you are in need of an advanced and feature-rich clipboard manager for Mac then this is it. Some features are iCloud Sync, sequential pasting, custom pasteboards, blacklisting etc.
Check Out Pastebot ($9.99 | Free Trial on Website) You can download from here
5. Copy'em Paste
Not all clipboard managers allow you to manage entries. But Copy'em Paste will let you manage all the clipboard entries you have recorded seamlessly. This is because of the organization method of clipboard entries. It can record everything that has been copied including media files.
It also has special features that is not available in other clipboard managers. For instance, you can enable or disable plain-text mode, turn on/off recording, take screenshots, delete the stored clippings etc. It will also allow you to have all control on the main interface. One of the best feature is that it lets you sync and export clipboard entries via iCloud. So, these entries will then be available on all your devices. You can also try various themes for Copy'em Paste.
Pros: Extension support, Hotkeys for instant pasting and Easier controls via a fully-fledged interface.
Cons: There is no pane for preferences.
Verdict: I would like to award this clipboard manager as one with most features in hand. The option for exporting, syncing and customization is most liked feature by everyone. This is a premium macOS app. So you have to pay for it but it is all worth it.
Check Out Copy'em Paste ($9.99) You can download from here.
Conclusion:
So in our day to day life we have to save important things and Clipboard Manager for Mac. We have provided you with the evidence of how useful is Clipboard Manager for Mac and how you can configure for the best of your use. And we have also provided you the best options of Clipboard Manager for Mac and from where to download them. Thank You for reading it. Hope you find what you are looking for here.