We all get bored using the same generic keyboard throughout. And iPhone is known to keep things simple from the very beginning to things. But if you want to use colors other than dark grey and white you need to have third-party apps. But don't worry in this blog we will give you all the necessary information. Utilize your dark mode to change the keyboard color. Also, we have included some of the best apps so that you can know. How to change your iPhone keyboard color? And also some other tips which will help you customize your keyboard very easily.
Also Read: How to find old iPhone messages? Top 4 ways to recover
How to Enable Dark Mode:
You can activate Dark mode very easily it is a no brainer. Go to the settings app> Swipe Down then select display and Brightness. Now the first option that pop-ups is light and dark, just tap on the dark and voila. Just like that it's done and now you keyboard will turn dark grey with white letters.
Expert Advice:
There is a quick way of activating and deactivating dark mode which can be at your fingertips. Just Go to Settings> Control Center> Customize Controls. Then Dark Mode appears under "More Controls" then tap on the plus icon and then add an option to the Control Centre. Just switch between the two modes whenever you want. But this mode is more for the phone and if you want to try it on a keyboard. You have considered using third-party apps.
Top 3 Keyboard Apps that you can Get:
One of the most loved among the keyboard apps with over more than 28000 positive reviews on the app store. Fancykey not only provides different keyboard colors it also offers stickers, emojis, effects, and keyboard themes. Other features are also major highlights of this app, such as the built-in auto-correct option and then swipe feature.
This is a free app that can provide you with a lot of options also including a rather large fonts library. But if you want some splurge on your keyboard you have to pay a little.
You can understand the name here this specially designed to give your keyboard a color of a splash. Changes you make also affect the chat background. Also the color keyboard does a good of matching every font color with the background.
It also offers some features to help you write faster and also offers emoticons. But the thing that really makes it stand out in this list is that it offers more than forty languages. The basic usage of app is free but you have to do some in-app purchases to get some extra features.
You can't say this is a great app but it works just fine. It comes from an indie developer. This app also features tons of different buttons and colors. And also provide you with some good features and emoticons.
Cool Fonts is also free to use it also has some in-app purchases and works best for people who are constantly posting to social media. Easy set-up is another highlight.
How to Install third-party Keyboards:
So, once you have downloaded the keyboard you would want to use it right away. Here is how you can easily install and activate it. Follow the steps and it will be done easily:
Firstly, tap on the settings to access the menu and then select general and then choose keyboard.
Now all you have to do is hit keyboards at the top of your screen and then select "Add new Keyboards". Then you will be able to see the name of the keyboard and then select the keyboard you want to use under "Third-Party Keyboards". Then just tap on it and make a selection and like that you are good to go.
Note: You will be able to switch between these third-party keyboards and basic iPhone keyboards very easily.
You can Set a Keyboard as Default: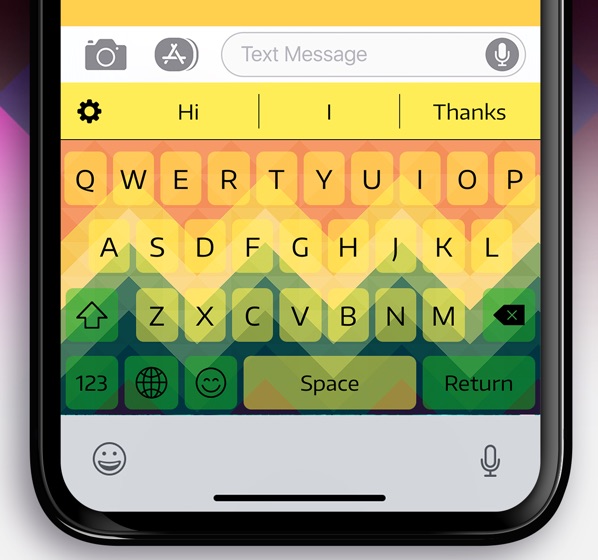 Now again for this process also you have to go to your settings and then the keyboard menu under general. Take the path given below and you will be able to do it very easily:
Settings App > General > Keyboard > Keyboards
Now when you there in keyboard windows tap on edit and move the keyboard to you would like to add to the top of the list and then hit confirm. After this is done whenever you type in a messaging app your favorite keyboard will appear. You can also switch back to the standard one whenever you want.
Switching between Keyboards:
As we told you can easily switch between keyboards easily. Now follow the steps given below and you will be able to do it easily.
To access the keyboard from any app you want and hold down the globe sign that you will see at the bottom of the keyboard. As Apple ditched the force touch, a light press onto the icon should be enough. A small window pops up and just tap on the keyboard name to select it. This is also where you can toggle off or on Predictive text.
Conclusion:
So if you are bored with your old generic iPhone keyboard. We are here to help you know How to change your iPhone keyboard color. We have also provided you with the options of different third-party keyboards you can download and use right away. Hope you find this information useful. Thank you for the read.